User:Melissa Atkinson-Graham
From OpenWetWare
I am a new member of OpenWetWare!
Contact Info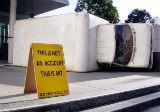 Melissa Atkinson-Graham
York University
Toronto, ON

Email me through OpenWetWare
Education
2007- MA, Social Anthropology, York University
2007, HBa, Anthropology and Cultural Studies, Wilfrid Laurier University
Research interests
practices, experiences and discourses of craniosacral therapy.
anthropology of the body and senses, medical anthropology, health and healing, body politics, and visual cultures.
boundaries, policing and pedagogy; performance art and artists; body modification, risk and representation; contemporary art and installation.

Publications and Participations
2008 The Canadian Anthropology Society, Ottawa, ON
"Auto-Pilot: On Access and Aviation"


2006 New York University Steinhart School of Education and The Center for Transcultural Research at The Dublin Institute of Technology: The Global City and Media Ethnography: Summer School in Practice-led Transcultural Research and Media Practice, Dublin, Ireland.
Project Developed: "States of Grace and States of Sickness: Structural Violence and the Criminalization of Body Modification Practices in the United States"